Cultural-historical collection
The collection comprises museum objects of applied arts from the late Middle Ages until the 20th century, which occurred or were used within the remit of the Museum. The collection shows furniture, lamps, clocks, tableware, textile and everyday small objects, made of various materials (seals, pipes, spoon holders, jewellery, fashion accessories...).
The smallest portable or positive organ, made by masters from Ljubljana – Marcus Göbl and Joannes G. Eisl in 1743, could still be used for concerts on special occasions. Among our culture-historical collections there is one which is well-known and of great importance in Slovenia: Sadnikar's Collection.
Contact:
Curator: Zora Torkar, historian and ethnologist, museum counsellor
zora.torkar@guest.arnes.si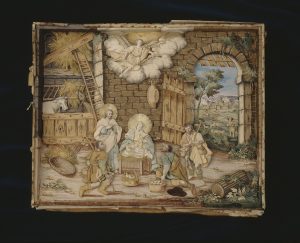 The oldest museum collection in Kamnik was founded in 1893 by Josip Nikolaj Sadnikar, an amateur collector, patron and veterinary. At the same time this was the first private museum collection opened to the public in Slovenia. In over sixty years of collecting he collected more than 4000 items and in 1952, when he died, this was one of the biggest collections of its kind. In his museum a variety of objects found their place; amongst others, archaeological objects, objects of everyday use, as well as special and precious objects, such as books, manuscripts, archive documentation, and a gallery of sacred art and paintings. He collected objects by exchanging them, by receiving them as gifts, by purchasing them. Sadnikar's knowledge and passion for collecting antiques was known not only in Kamnik, but for miles around. In 1937 he was granted the title of Honorary Citizen of Kamnik for his versatile life's work.
In 1950 the Institute for the Protection of the Cultural Heritage of Slovenia rendered a decision on protection of the unique Sadnikar's museum collection. Kamnik municipality even planned to buy the house together with the complete collection. But due to economic problems of that time Kamnik municipality could not afford to fulfil this ambitious plan. It was decided to buy only a part of the collection for the new museum at the Zaprice Castle, established in 1961. External experts and specialist-appraisers of art helped to select and purchase the objects, which were by their use and place of origin related to the Kamnik region. In 1964 the Inter-municipal Museum Kamnik purchased 1468 objects. The museum now houses the re-named Sadnikar's collection, comprising some of the most beautiful and precious objects, such as a rare edition of Dalmatin's "Bible", Valvasor's "The Glory of the Duchy of Carniola", tin guild jugs, house altars, beehive panels, walking sticks, glass paintings etc.
Museum stories