Rudolf Maister's Birthplace
Opening hours for visitors:
Tuesday-Saturday: 10 – 18,
Sunday, Monday and holidays: closed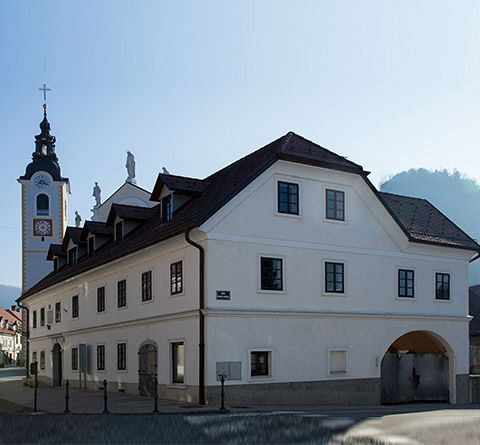 Rudolf Maister's Birthplace entrance fee
| | |
| --- | --- |
| Adults | 3,00 € |
| Adults – guided tour | 3,50 € |
| Pensioners | 2,50 € |
| Pensioners – guided tour | 3,00 € |
| Children and students | 2,00 € |
| Children and students – guided tour | 2,50 € |
| Kindergarten/Disabled children – guided tour | 0,50 € |
| Group ticket for Museum and Rudolf Maister's Birthplace – adults – guided tour | 5,50 € |
| Group ticket for all three Units – adults – guided tour | 6,00 € |
| Group ticket for Museum and Rudolf Maister's Birthplace – Pensioners – guided tour | 4,50 € |
| Group ticket for all three Units – Pensioners – guided tour | 5,50 € |
| Family ticket (2 adults + 1 child, free admission for all the next children) | 6,50 € |
Educational programmes for children
| | |
| --- | --- |
| Children and students – guided tour | 2,50 € |
| Kindergarten – guided tour | 0,50 € |
| Group ticket for Museum and Gallery M. Maleš – youth | 3,00 € |
| Group ticket for all three Units – youth | 4,00 € |
| Workshops | 2,00 – 5,00 € |
Free Entry
| | |
| --- | --- |
| Holders of SMD, ICOM cards with paid membership fee | free |
| Pre-school children | free |
| Disabled children | free |
Free Admission Days
Slovenski kulturni praznik (Slovene Cultural Day) (8th February)
World Museum Day (18th May)
Ta veseli dan culture (Merry Day of Culture) (3rd December)
Muzejska noč (Museums on a Summer Night) (3rd Saturday in June)
Getting here
Dislocated unit the Rudolf Maister's Birthplace is located at Šutna 23, near Šutna parish church. Next to the house there are a small number of parking places for visitors' cars. The exhibition premises occupy a part of the ground floor of a town house from the 19th century.
Accessibility for mobility disabled
Accessibility to the Inter-Municipal Museum Kamnik exhibition rooms and shops are enabled for all people with special needs. Escorts have free entrance.
Please make a reservation for groups (the smallest group is 5 persons) at the phone number +386 (0)1 8317 662 or email zora.torkar@guest.arnes.si to let us know of possible special needs, on the basis of which we can discuss arrangements.
Accessibility for mobility disabled
For mobility disabled visitors access to exhibiting rooms and museum shop is possible in Rudolf Meister's Birthplace, Šutna 23.
Announcement of groups
Guided tours around the Museum, Gallery or Rudolf Maister's Birthplace exhibitions or any other organized programme such as workshops, lectures etc. must be booked in advance for groups of visitors (minimum 10 persons), by telephone +386 (0)1 8317 662 and +386(0)59 097 580 or by e-mail zora.torkar@guest.arnes.si; ajuvan@siol.net.