Winter motif in art
In Slovene art, Miha Maleš (1903–1987) represents a man who was a true "uomo univerzale" in the field of art and culture, as he was not only engaged in fine arts – painting, graphics and drawing,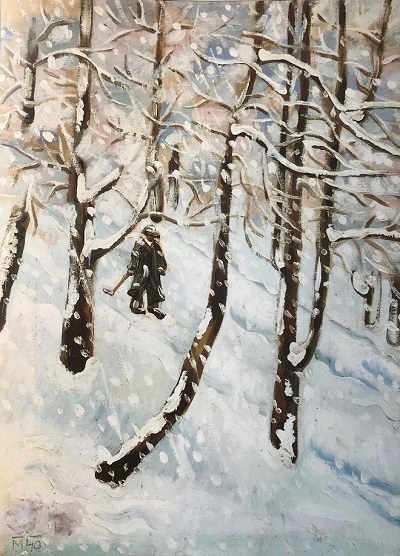 in which he introduced completely new, modern guidelines, but he was also a messenger of new art, bibliophile, illustrator, publisher and owner of an art store in Ljubljana. Born in Kamnik, he settled in Ljubljana after studying in Prague, where in 1933 he rented an atelier in Tivoli from the municipality, where he also arranged an apartment. Ljubljana's Tivoli City Park has become not only a home but also an inexhaustible source for his art, and in his oeuvre, we come across many excerpts, hidden corners and paths that Maleš painted in all seasons.
One of these is the rarely painted motif Winter in Tivoli (1940). Winter seems to have been the least suitable for the artist as the time of year, and so winter motifs are few. In the picture, permeated by the familiar silence of moments when it snows and all the noises and voices melt away, he places a dark figure among the dark tree trunks, clad in a thick winter coat and hat. Only he walks slowly across the deep snow, down the hill. Through the blizzard we see a particle of heavy metal sky.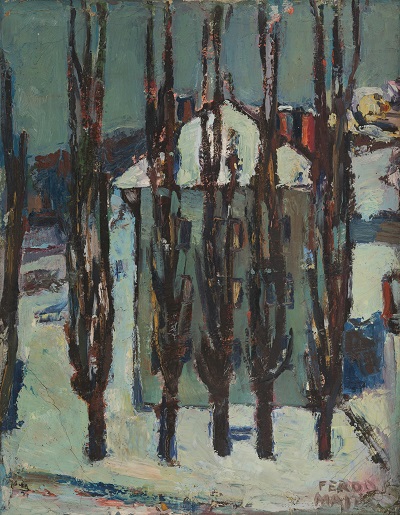 The painting entitled Poplars (1954) is the work of the Maribor painter Ferdo Mayer (1927–1994). The painter was born in 1927 in Maribor. After primary school he enrolled in the art school in Graz. In 1946 he was one of the first students to start his studies at the newly established Academy of Fine Arts in Ljubljana. Many well-known painters and professors passed on their knowledge to him: France Mihelič (drawing), Božidar Jakac (graphics) and Gojmir Anton Kos (painting). He first taught at the Gymnasium in Maribor, but in 1954 he moved to Kamnik and got a job at the Fran Albrecht Elementary School, where he taught until 1978, when he devoted himself entirely to his artistic path and gained the status of a freelance artist.
There are also few winter motifs in the work of the painter Ferdo Mayer, so Poplars are one of the few works created at this time of year. The work was created during his service and stay in Kamnik.
It is difficult to say why winter is a rare motif for both exposed authors, but when we get to know them better as painters, we see that they were both very dedicated to colour, and winter is the most "colourless time" in the annual cycle. Poplars belongs to Mayer's realistic phase, during which he increasingly developed a completely abstract language, and in both terms, he remained a sworn colourist.